Just back from Thanksgiving with the in-laws in New England. Thanksgiving is all about family getting together for the day and sitting down to a wonderful dinner. The main difference between Thanksgiving dinner and a traditional Irish Christmas meal is there's only one type of meat – turkey – and the main veg is squash. Suits me to a tee as I dislike ham and sprouts!
The other big difference is pie instead of pudding for afters, which again works for me! At the Emberleys' there are four types of pie; pecan (peh-cawn, not pee-can), pumpkin, Becca's special dark chocolate and nut roll (yum) and apple pie.
With cheese.
In New England apple pie HAS to be eaten with cheddar cheese.
I'll let the photos set the scene but there are no shots of full plates; sure it would have been a shame to let Barbara and Rebecca's fab food get cold. Click the wee arrow for slideshow of dinner, after-dinner walk by the river, then back to the house for pie.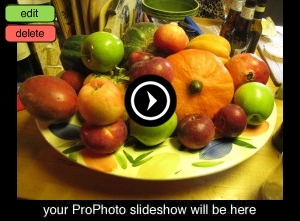 After pie we had a special illustration assignment. On November 16th a group called OrangeYouGlad hosted a draw-a-thon where the money raised went to the NYC Food Bank – under pressure after Sandy. It worked like this: people donated money and in return were rewarded with a drawing of their favourite food made by local artists. There were still some pieces to be done after the official draw-a-thon was over and Rebecca offered our services. Ed, Rebecca, Michael and myself sat down for a mini draw-a-thon and you can see the results below.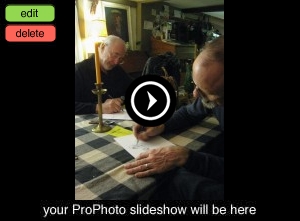 If you are familiar with the work of Ed Emberley, Rebecca Emberley, Michael Emberley and myself, you should be able to match the art to the illustrator. If not, just look closely through the various photos of us drawing and you'll figure it out. Our subjects were Spaghetti and Anchovies, Chicken and Rice, Sweet Potatoes, and Breakfast Tacos!
http://oygdraw.tumblr.com/post/36668031122/the-emberleys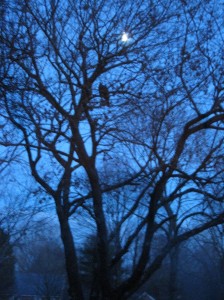 And, just for fun, here's a wild turkey sitting in the moonlight the day after Thanksgiving. Doesn't know how lucky he is…