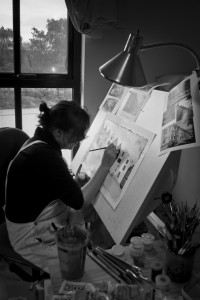 About Me
I was four when I first announced I would be an artist when I grew up. My parents really encouraged me, though Mam always pointed out that artists rarely make much money. I studied design and illustration at the COMAD (DIT) in Dublin.
My first three books as an author/illustrator are very different from one another. I was learning as I worked, figuring out how to write and illustrate a book on the job. An Chanáil (An Gúm, 1988) was set along the Grand Canal in Dublin, The Sleeping Giant (Brandon Press, 1991) was set in Dingle, Co Kerry, and The Long March (Wolfhound, Ireland 1997/ Tricycle Press, USA 1998) is the story of how the Choctaw Nation of Oklahoma sent aid to Ireland in 1847.

I found my voice as a writer and an illustrator with Izzy and Skunk, I'm a Tiger Too and You, Me and the Big Blue Sea (Gullane UK, 2000, 2001, 2002). By now I had worked out that my main interest as a picturebook creator is in charting the personal journeys we make in early childhood, the small events which change us, the little battles and triumphs as we grow up.
Silly Mummy, Silly Daddy, Silly School and Silly Baby (Frances Lincoln UK 2006, 2008, 2010) are three books I made featuring my nieces Beth and Ann, and our whole family.

I am I (2006) and There (2009) are books I developed with Neal Porter of Roaring Brook Press. I'm very proud of these two titles. I pushed my own boundaries – artistically and subject-wise – and went somewhere new.
I began writing novels in 2006 – another big learning curve. Timecatcher was published by Orion UK in 2010, followed by Dark Warning in 2012 and Hagwitch in 2013. My novels are rooted in myth and legend but ultimately they are concerned with how we each twist and turn and struggle (and laugh and dance) towards adulthood.

The New Kid (Hodder 2014) is about the delicate dance of meeting and making friends. The stakes are high for new kid on the block, Ellie. What if she isn't accepted? But the stakes are high for the local kids too – what if this new kid takes my friend? What if she makes up better games than me? My most recent book is silent, a wordless story called Owl Bat Bat Owl (Walker 2016). Here friendship seems very unlikely as Mother Owl is clearly horrified when a family of bats come seeking refuge on the owl family's branch.
In 2008 I was honoured to contribute an image to We Are All Born Free (Frances Lincoln/Amnesty International), a picturebook depicting the Universal Declaration Of Human Rights. In 2015 I contributed a short story to Eoin Colfer's Laureate na nÓg project – the anthology Once Upon a Place (Little Island).
I met my husband Michael Emberley in 2007 at a children's literature conference in Frostburg MA. Michael is from a family of picturebook makers; his dad is Ed Emberley and his sister is Rebecca Emberley. Right now Michael and I are working on a picturebook together – watch this space!
Michael and I blog together here: The Belugas are Watching
Facebook: picturebooks and novels
Michael's website is www.michaelemberley.com/
Studio photo: Róisín White
---
Awards:
An Chanáil – Readers Association of Ireland Book Award 1989, Irish Book Awards Design Medal 1989, Bisto Book of the Decade (Irish language) 1990
The Sleeping Giant – Bisto Honour Award, 1992
The Long March – Smithsonian Notable Book 1998, Bisto Honour Award 1999, RAI Special Merit Award 1999, IBBY Honour Book (illustration) 2000
Izzy and Skunk – Bisto/CBI Book of the Year 2001, a Schools & Libraries Best Book 2000 (USA)
I'm a Tiger Too – shortlisted for Bisto/CBI awards 2002
You, Me and the Big Blue Sea – Bisto/CBI Book of the Year 2003
Silly Mammy, Silly Daddy – shortlisted for Irish Book Awards 2006
There – Bisto/CBI Book of the Year 2010, Bisto Illustration Honour Award 2010, a Carle Museum Picture Book of Distinction 2009
Timecatcher – shortlisted for The Irish Book Awards 2010 and for the West Sussex Libraries Children's Choice Awards 2012
Dark Warning – CBI Honour Award for Fiction 2013
Hagwitch – CBI Honour Award for Fiction 2014 & CBI Book of the Year Award 2014
Owl Bat Bat Owl – a Junior Library Guild Fall Selection 2017, nominated for the CILIP Kate Greenaway 2018
Achievements:
2008 – IBBY Ireland's illustrator nominee for the Hans Christian Anderson Award.
2009 – received a literary bursary from the Arts Council
2010 – The National Library of Ireland began a collection of my work, purchasing seventeen of my illustrations.
Events & Exhibitions 2007-2017 (selected):
2007 – speaker at the Children's Literature Conference in Frostburg University, Maryland
2011 – speaker at the Rhode Island Festival of Children's Books & Authors
2011 – You, Me and the Big Blue Sea was chosen to be reproduced as the Big Book on the Wall at Douglas Library in Cork
2012 – one of a group of writers and illustrators who represented Ireland at International Children's and Young Adults Book Week in Cologne with SK Stiftung Kultur. I also contributed a dozen pieces to an illustration exhibition – Enchanted Ireland.
2012 – contributed pieces to Telling Tall and Tiny Tales exhibition at the Ark, Cultural Centre for Children, Dublin.
2013 – contributed two pieces to Pictiúr, a major touring exhibition of Irish illustrators curated by Laureate na nÓg Niamh Sharkey, and Children's Books Ireland. Exhibition venues included Bologna Book Fair, the Vienna Children's Book Festival, The Leuven Institute for Ireland in Europe, EU Parliament HQ Brussels, IMMA Ireland and Stormont Buildings, Belfast.
2014 – Hagwitch was featured in the Upon the Wild Waves: A Journey through Myth in Children's Books exhibition in the Long Room, Trinity College, Dublin
2015 – took part in the inaugural Towers and Tales children's lit festival, Lismore Castle
2015 – filmed 10 one minute quick-drawing segments for RTÉ Jr.
2015 – panel discussion on Once Upon a Place with Roddy Doyle, Óisín McGann and Sarah Webb in the Literary Tent at Electric Picnic, with CBI/Laureate na nÓg Eoin Colfer/Arts Council
April 2017– one of four writers chosen to represent Irish children's literature in Canada, speaking at literary festivals in Moncton, Montreal and Ottawa.
September 2017 – six pieces from Owl Bat Bat Owl accepted for the Bratislava Illustration Biennial
2015/2016 and 2016/2017 and 2017/2018 – writer in residence at Marino Institute of Education.