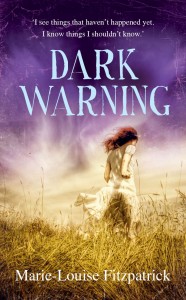 The girl's mouth is open in a scream. She's tearing at the hands clutching her neck; her feet are flailing about on the freezing ground. Her eyes are popping in her snow-white face; I can see the moon reflected in them, then her eyelids flutter closed, her mouth goes slack and she is still.
Taney Tyrell is different. She always has been, but it's something she's learned to hide. When the attacks start, on lone girls as they walk home at night, Taney must decide whether she is ready to face up to the dark warnings that torment her.
Are her visions a gift, or a curse?
Winner of the CBI Book of the Year Honour Award for Fiction 2013
Reviews:
'OK, fasten your seatbelts when you read Dark Warning, because you're in for a joyous ride… the writing makes the book sing… Dark Warning is exciting and atmospheric.  When you've read it, you'll want to read it all over again.'  Gwen Grant, Armadillo Magazine
'A gripping historical thriller…the story grips from the first line on the first page.' Frances Breslin, The School Librarian Journal
'This is an engaging and engrossing story which is given a lilting momentum by the dialect used in both narrative and dialogue.' Books for Keeps *****
'Dark Warning has a beautiful sense of time and place and is rich in detail about Irish history and cultural tradition. The prose is just gorgeous, with lyrical descriptions and vivid, energetic dialogue. The characterisation is fantastic, too. Taney herself is wonderfully drawn, fearful of the gift she doesn't fully understand, lonely as only a motherless child can be, but with a central core of courage and resolve.' The Book Bag ****
'The sensory encompassing descriptions brought the historical setting to vivid life, as well as the sense of class divide and poverty.' We Love This Book
'Taney's fresh, colloquial voice – determined, self-aware, often terrified by her visions – shines through this gripping historical novel, vividly portraying the jostling elegance and poverty of 18th-century Dublin.' Booktrust
'This novel about the 19th Century life in Dublin rewards the reader with fascinating historical insight and is an original twist on the paranormal trend.' Paddy O'Doherty, Irish Independent
'A delightful book; nostalgic and thrilling by turn, Dark Warning lives up to its cover and is one I heartily recommend.' Teresa Doran, Books Ireland
'It has all the verve and life of a Brueghel painting.' Carole Redford, Inis Magazine
Read the first chapter here:  Dark Warning CH1
Publishers: Orion UK, 2012