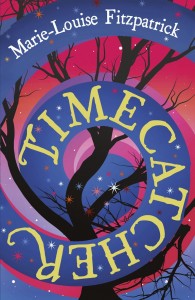 The Dublin Button Factory hides a secret.
There, Jessie meets a boy who walks through walls but can't remember his own name. Together they discover the Timecatcher, a swirling powerful Magic, which every seven years reveals the past, both good and bad, in a jumble of spinning days.
The Timecatcher is about to open now, and there are those who will go to any lengths to control it…
Jessie and her friends – both ghosts and human – must stop them, before it's too late.
Shortlisted for the senior children's Irish Book Award 2010 and the West Sussex Libraries Children's Choice Award 2012
Dubray Books Book of the Month, May 2010
Reviews:
'…this book is fun and jaw-droppingly clever… I absolutely loved this book! I wish I had read it when I was about eleven, because I can guarantee I would have enjoyed it twice as much then. Marie-Louise Fitzpatrick's writing is brilliant – succinct and humorous with just the right amount of description – ideal for that eleven year old me' Bookbag ****
'With a mix of extraordinary characters the plot advances in a vortex towards disaster. Timecatcher is a thoroughly entertaining read for age 11 to mid teens' Irish Examiner
'…a fast-paced novel, full of surprises.' Irish Times
'An imaginative and clever story with an interesting cast of characters and a refreshingly unpredictable plot.' Writeaway
'This book is captivating, gripping and amazing. Anyone who loves invention of new things would really love to read this book.' Teen Titles
'A time-slip story with a twist in the tail from one of our most respected picturebook artists … the author plays with time, language and point of view – human, non-human and inhuman, in a rather dramatic coming-of-age story… Above all, this is a good story with an inventive plotline, part detective, part fantasy, containing interesting twists and turns and leading, in the end, to a satisfying conclusion.' Jane O'Hanlon, Inis Magazine
Publishers: Orion UK, 2010